Our Crew

The staff at High Country Outfitters is a highly trained group that loves to share the experience of life in the outdoors. Many come up through our unique summer camp where they gain skills in horsemanship, mule packing, outdoor cooking and trip leading.

"As camp coordinator, my goals are to build the self-confidence and self-reliance necessary for each camper to become a strong, independent individual".  

Stacy Sutton - Camp Coordinator & Owner 

Stacy joined the Camp Wahoo and High Country crew for the 2007 season to begin learning about the on site daily operation but was employed in other areas of the business since 1999. She was born and raised in Sunnyside Washington and now resides in Cle Elum where she and her husband Mike have raised their three active and highly motivated children. Stacy began riding at the same time she learned to walk spending much of her youth around rodeo events, riding and warming up horses for her Dad and his team roping friends. Stacy has successfully started many young horses for mountain trail riding. During this time she has extensively ridden stretches of the Pacific Crest Trail from the Pasayten Wilderness to White Pass camping out for days at a time. Her riding has covered all the trails in the Cle Elum area including the trails that are utilized by High Country Outfitters and Camp Wahoo in the Forest Service permit.  

Mike Sutton - Registration & Administration

"Mountain Mike", husband of Stacy for 30+ years, assists in the business operations, answering the phones and working behind the scenes keeping the business operations running smoothly. Together they spend all of their free time in the mountains on horseback, motorbike, jeep & snowmobile. The Sutton Family works with several organization including  the US Forest Service, Washington Outfitters & Guides Association, Pacific Crest Trail Association & Cle Elum Chamber of Commerce. 

Jeani Krogstad - Guide & Cook

Jeani is our camp cook, planning and shopping for all of the meals served during the busy summer months. She also works the Cattle Drive and Horse Drive preparing delicious Dutch Oven meals. She assists in a number of High Country and Camp Wahoo activities throughout the season. Jeani retired from the Seattle School District after 35 years of service where she developed the environmental studies program for her school. She is still an active substitute teaching during the school year. Many of her skills are used in our Leadership Program to grow our young, enthusiastic staff in training. 

" If we all work together we can have a sustainable forest system open to appropriate use. Dedicated areas and mixed use areas for the enjoyment of all."



Note to staffers past and present: If you are still interested in participating in Camp Wahoo or High Country rides please email us a bio (small paragraph) and picture to be included on our staff page. Staff is listed in no particular order.  Please don't be offended if you are not currently listed.


Emma Burgess - Guide & Camp Coordinator

Emma is a 3rd year nursing student at Georgetown University in Washington, DC who is planning on pursuing a career in Pediatric Intensive Care. She is also an EMT and works with her on-campus, volunteer ambulance corps during the school year. She has been coming to Wahoo since she was 11 years old and just can't get enough. She has been horse-crazy since she was a little girl and has spent the last 10 summers up at Wahoo. She is from Walla Walla, WA and spends her time horseback riding, running and backpacking when she's not at school. She loves Wahoo with all her heart and believes it has taught her some of her most important lessons on hard work, friendship and life in the wilderness

Leadership

Junior Staff & Councilors

Leah Houghton - Guide & Camp Coordinator 

Leah has been an equine enthusiast ever since she first came to camp at age 9. She has grown up through the program, learning the value of hard work, camaraderie, and the beauty of the high country. Leah is a graduate of Alderleaf Wilderness College ('12) in Washington State where she has just completed the Instructor Apprenticeship program. Leah also loves to share her passion for outdoor living and survival skills at Quiet Heart children's nature camps during the year. In the fall, Leah will be an apprentice instructor for the first ever Advanced Skills Second Year Program at Alderleaf. Leah also enjoys volunteering with Little Bit Therapeutic Riding Center where she helps people with special needs connect to horses and learn to ride.

The crew for Camp Wahoo is selected for their love of the outdoors and commitment to working with our young people. Each is an experienced horseperson and skilled in all program areas. Each member is trained in Advanced Wilderness First Aid and CPR. They are also trained in Kid Tech, giving the ability to recognize the different learning styles, temperaments and needs of individual campers. Campers at Camp Wahoo are allowed to be themselves; loveable and exceptional in a safe, caring environment. This atmosphere allows campers to have fun while developing new skills and learning about the mountain environment.

Camp Founder Debby Willem 

Debby founded the Camp Wahoo program in 1983 and continued to develop it into the successful and popular program that it is today. Debby was featured in the publication "Women and Work", honoring her efforts as the only woman-owned outfitter business in Washington State.  Debby has dedicated her life to creating learning opportunities in a safe, healthy and fun learning environment for participants and horses alike. She remains a close partner to ensure that the High Country Outfitters and Camp Wahoo philosophy will continue for future generations.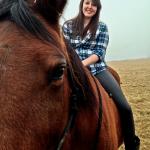 Savanah Mattson - Guide & Camp Coordinator Savannah has learned everything she knows about horses from the leadership program at Camp Wahoo.  Her 7 years of working at Wahoo have taught her what it means to be a team player.  Her people skills learned from being a camp counselor helped her immensely in her volunteer work with Special Olympics during the school year.  She is currently pursuing a degree in psychology at the University of Washington, Seattle, with the hopes of continuing on to a specialty in Animal Assisted Psychology.  This would allow her to continue doing what she loves, sharing horses with other people!

Vaiva Palunas - Guide and Camp Coordinator

Vaiva is an aspiring veterinary student who has been a part of the Camp Wahoo family for the last 14 years, directing camp in 2016 and 2017. Some of her fondest memories include the people and horses she met and grew up with at camp. She learned to love the mountains and always seek adventure at camp, and credits the leadership program with allowing her to become the lifelong learner and teacher she is today. She is a born naturalist and loves sharing the secrets of the mountains with campers, guests, and anyone else with the slightest interest. Vaiva graduated with honors from Scripps College in Claremont, CA and is currently living in Seattle.

l